Product was successfully added to your shopping cart.
Additional Information
Product Type:

Raw Material/Extract

Active Ingredients:

Fatty Acid

Marketed Country:

China

Targeted Country:

North American/Europe Country

Shelf Life Period:

24 Months

Health Function:

Men's Health

Supply ability:

10 Metric Ton Months

Lead Time:

5 Days

Nearest Port:

Shanghai

Accepted Delivery Terms:

FOB, EXW, CIF, DDP, DDU, Espress delivery

Accepted Payment Currency:

USD

Accepted Payment Type:

Credit Card, L/C, Paypal, T/T, Western Union
Details
What's Saw Palmetto?
Saw palmetto (Serenoa repens/Sabal serrulata) is a palm-like plant with berries. The berries were a staple food and medicine for the Native Americans of the southeastern United States. Native Americans belonging to the Seminole tribe in Florida traditionally ate its berries for food and to treat urinary and reproductive problems associated with an enlarged prostate gland. They also used it to treat cough, indigestion, sleeping problems, and infertility problems.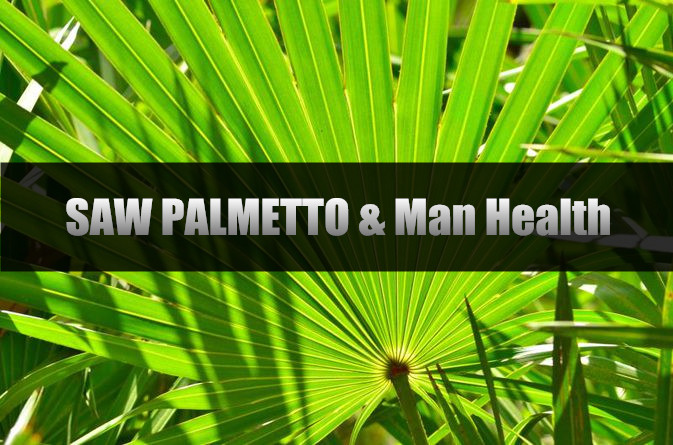 What's Saw Palmetto Extract?
Saw palmetto extract is an extract of the fruit of the saw palmetto. It is rich in fatty acids and phytosterols.In the early 1900s, men used the berries to treat urinary tract problems, and even to increase sperm production and boost libido. Today, the primary use of saw palmetto is to treat benign prostatic hyperplasia (BPH), a non-cancerous enlargement of the prostate gland.

How is saw palmetto used today?
1. Prostate Protective
The clinical research into the ability of saw palmetto to treat BPH may have far-reaching implications for treatment of certain female hormonal dysfunctions, especially polycystic ovaries. This increasingly common condition is also associated with elevated DHT and oestrogen, and thus may be very responsive to saw palmetto therapy.
DHT Inhibitor in 'Male-Pattern' Baldness
It appears that elevated levels of DHT in the scalp trigger the primary mechanism of male pattern baldness. Although clinical research is currently lacking with respect to this use of saw palmetto, the theory behind its use for this purpose is sound (although the required dosage may well differ from that which has been shown to be effective in BPH).
2. Reduces Risk of Prostate Cancer
Saw palmetto, can also inhibit DHT and help with urinary problems from BPH, such as trouble urinating and leaking urine, plus it regulates your testosterone levels, helps with libido and works as a natural remedy for impotence.
Studies have also found that saw palmetto inhibits the growth of prostatic cancer cells and may destroy dangerous cells. A study conducted at the Department of Biochemistry and Molecular Biology in Beijing found that saw palmetto induced growth arrest of prostate cancer LNCaP, DU145 and PC3 cells and down-regulated DHT, the hormone that leads to prostate enlargement.
Another interesting note about saw palmetto is the research that has been done to measure its effect on post-surgery recovery time. Prostate surgery (known as transurethral resection of the prostate or TURP) can require a lengthy recovery period, but research shows that taking 320 milligrams of saw palmetto daily for two months before prostate surgery can reduce the time spent in surgery. It also helps with blood loss, the development of problems during surgery and the total time spent in the hospital.
3. Helps with Hair Loss
Saw palmetto extracts and supplements work as hair loss remedies because they keep testosterone levels balanced. As men age, the testosterone hormone is diminished and the hormone called 5α-Dihydrotestosterone (DHT) increases. The cause of hair loss is due to the hair follicles' sensitivity to DHT, which is a male androgen hormone that causes follicles to shrink, resulting in a shorter life span and decrease of hair production.
Normally after hairs fall out, another hair starts to grow from this same follicle — but if DHT is high, hair growth decreases. Saw palmetto has the power to stop the conversion of testosterone into DHT, making it beneficial for hair growth.
Although the options about saw palmetto as an effective hair growth agent are mixed, there are studies that indicate its use as beneficial. One study conducted at the Clinical Research and Development Network in Colorado tested 34 men and 28 women, aged 18-48 years, who topically applied saw palmetto extract in lotion and shampoo base for three months; the results found that 35 percent of the participants had an increase in hair density.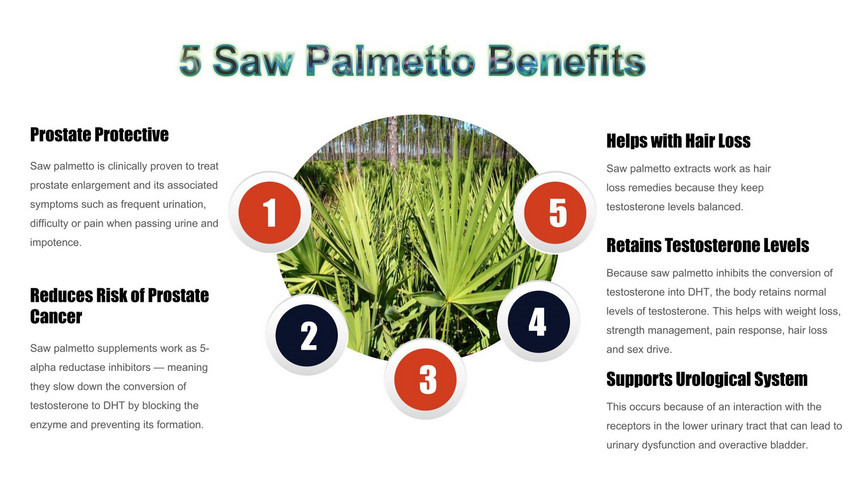 4. Retains Testosterone Levels
Because saw palmetto inhibits the conversion of testosterone into DHT, the body retains normal levels of testosterone. This helps with weight loss, strength management, pain response, hair loss and sex drive. Today, low testosterone in males is rapidly growing, and this results in chronic fatigue, a stunt in libido and a decreased sense of well-being.
A case study reported in the American Journal of Medicine analyzed a 52-year-old man who was experiencing erectile dysfunction, low libido and fatigue. He took no medications and was otherwise healthy. The study suggests that his metabolic status improved dramatically by increasing his testosterone counts. After three months, he already felt more energized and his sexual function improved.
5. Supports Urological System
Saw palmetto supports the urological system in men who have benign prostatic hyperplasia. This occurs because of an interaction with the receptors in the lower urinary tract that can lead to urinary dysfunction and overactive bladder. Saw palmetto is also recommended to treat weakening urinary organs in elderly people or women after menopause because it strengthens the urinary organs and has been recommended as a natural remedy for kidney stones.
The Journal of American Medical Association released a 1998 review stating that saw palmetto is effective in improving urological symptoms and urine flow. For the review, 18 randomized trials with almost 3,000 male participants were analyzed; 28 percent of the men taking saw palmetto showed fewer urinary tract symptoms, 24 percent showed improvement in peak urine flow and overall urine flow improved for 43 percent of the participants. The results were comparable to the group taking Proscar — a prescribed medication — and they were much more promising than the men taking a placebo.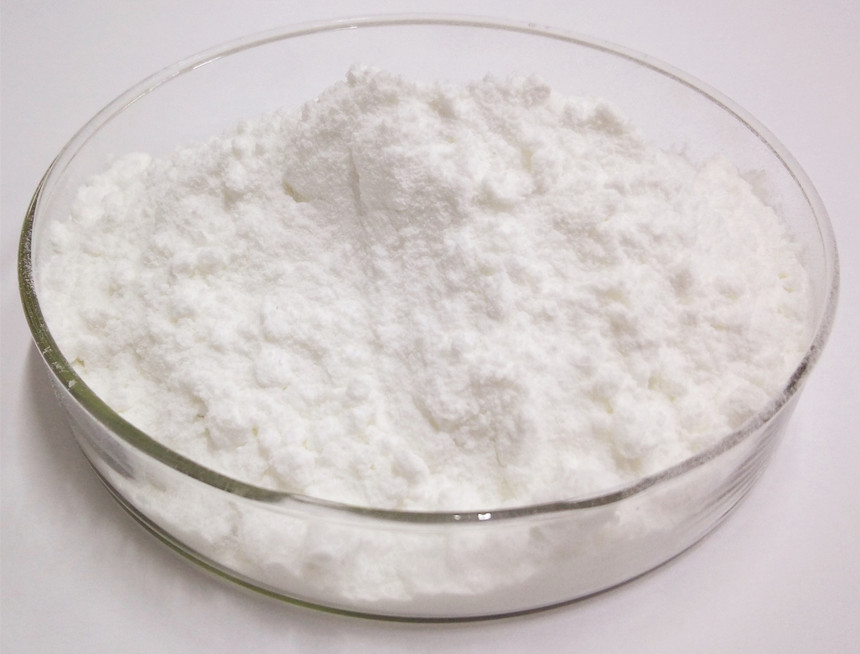 Be the first to review this product