Product was successfully added to your shopping cart.
Additional Information
Product Type:

Raw Material/Extract

Active Ingredients:

Withanolides

Marketed Country:

China

Targeted Country:

North American/Europen

Shelf Life Period:

24 Months

Health Function:

Sleep and Relax

Supply ability:

10 Metric Ton Months

Lead Time:

5 Days

Nearest Port:

Shanghai

Accepted Delivery Terms:

FOB, EXW, CFR, CIF, DDP, DDU, DAF, Espress delivery

Accepted Payment Currency:

USD

Accepted Payment Type:

Credit Card, L/C, Paypal, T/T, Western Union
Details
What Is Ashwagandha (Indian Ginseng)?
Ashwagandha belongs to the Solanaceae family and its scientific name is Withania somnifera. It is also known as Indian ginseng or winter cherry. In Sanskrit, it is known by the name Ashwagandha, which means the odor of a horse. It is named so because of the odor of horse sweat that the roots seem to emanate. The plant originated from India and it grows best in dry regions. It is a robust plant that can survive in very high and low temperatures too, ranging from 40°C to as low as 10°C. Ashwagandha grows from sea level to an altitude of 1500 meters above sea level.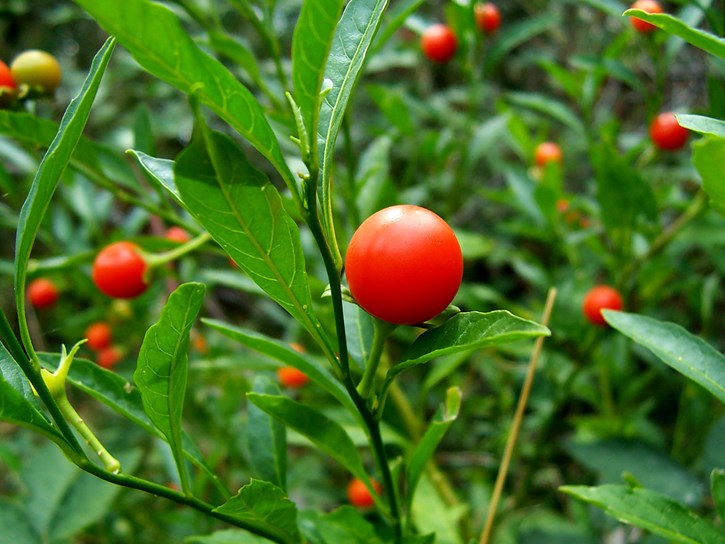 Introduction of Ashwagandha Extract
Withania Somnifera Herb Extract/Ashwagandha or Indian Ginseng is one of the big crop species of Ayurvedic medicine & is widely employed as a pain-killer and tranquilizing narcotic, traditionally considered safe enough even for use with children.
The extract is derived form the roots of Withania somnifera belonging to family Solanaceae. It is commonly known as Ashwagandha which indicates the equine (of horses) odor of the plant. Its main use, as described in Ayurvedic literature, is as a "rasayana" or rejuvenating drug and hence also traditionally known as Avarada which suggests the application of this plant for enhancing longevity. Withania somnifera is one of the best known and most researched Ayurvedic herbs and holds a place in the Ayurvedic traditions similar to Ginseng in Chinese therapies. For that reason, Withania somnifera has been often referred to as the "Indian Ginseng". Withania somnifera is used in several indigenous drug preparations for maintaining health as well as treatment of several disease conditions. Its main use is as an immunomodulator and as an antistress. Withania contains number of phytoconstituents, withanolides as the major constituent.
Health Benefits Of Ashwagandha
Regular consumption of Ashwagandha can result in various health benefits. Some of them are listed below:
1. Benefits for Men
Ashwagandha is extremely beneficial to men as it increases virility and sexual health. It is a natural aphrodisiac and is believed to increase sperm count and sperm mobility. It is consumed by men to enhance libido and is also recommended as a medicine for erectile dysfunction. However, it should be used for ED only under the recommendation of a professional medical practitioner.
2. Anti-Carcinogenic Properties:
A research study has termed Ashwagandha as an emerging and novel alternative in the field of oncology because of its cancer killing properties, in association with radiation therapy and chemotherapy. It is also of interest because it is known to reduce the side effects of chemotherapy without interfering with the tumor cell-killing activity.
3. Anti-Inflammatory Properties:
Ashwagandha has been found to be effective in dealing with a variety of rheumatologic problems. The herb is known to act as a cyclooxygenase inhibitor that decreases inflammation and pain. A research conducted at the Los Angeles College of Chiropractors suggests that Ashwagandha has anti-inflammatory properties that come from the alkaloids, saponins, and steroidal lactones found within it.
4. Antibacterial Properties:
According to Ayurvedic medical texts, Ashwagandha is effective in controlling bacterial infections in humans. A study conducted at the Centre for Biotechnology at the University of Allahabad in India showed that Ashwagandha possesses antibacterial properties. It also concluded that Ashwagandha was effective in urinogenital, gastrointestinal, and respiratory tract infections when consumed orally.
5. Cardio-Protective Properties:
Ashwagandha, with its anti-inflammatory, anti-oxidant, and anti-stressor properties, is good for cardiovascular health problems. It strengthens the heart muscles and can also control cholesterol. A study at the University of Arizona indicated that it possesses hypolipidemic properties that help in bringing down blood cholesterol levels.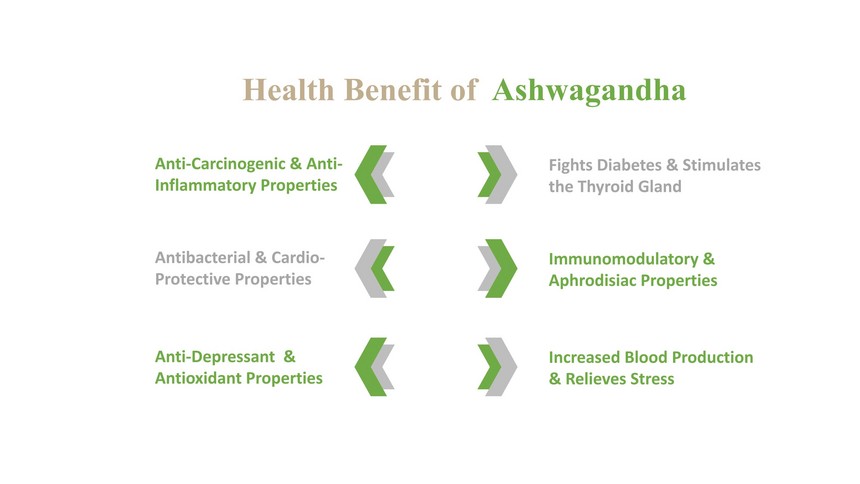 6. Anti-Depressant Properties:
In India, Ashwagandha has been traditionally used in Ayurveda to improve both physical and mental health. The effects of Ashwagandha on mental health, particularly on depression, were studied at the Institute of Medical Sciences at Banaras Hindu University in India. The study supported the benefits of Ashwagandha in relation to anxiety and depression.
7. Fights Diabetes:
Ashwagandha has long been used as a remedy for diabetes in Ayurvedic medicine. Research on the use of Ashwagandha in the treatment of diabetes indicated positive results. Experiments showed that blood sugar levels during fasting and post-lunch period decreased significantly when Ashwagandha was consumed for a period of four weeks.
8. Stimulates the Thyroid Gland:
In cases of hypothyroidism, Ashwagandha can be used to stimulate the thyroid gland. A study on Ashwagandha's effects on the thyroid gland revealed that the root extract if given on a daily basis, would increase the secretion of thyroid hormones.
9. Relieves Stress:
Ashwagandha is also believed to possess anti-stress properties. Traditionally, it had been administered to induce a soothing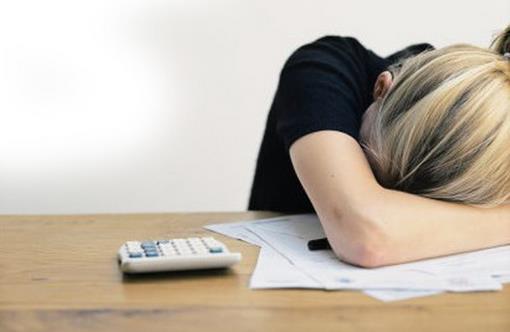 and calming effect on a person. The active ingredient that is responsible for this activity is still unknown, but various anti-stress properties have been observed in research experiments.

10. Antioxidant Properties:
Ashwagandha is a very good source of antioxidants. These antioxidants are very effective in scavenging and neutralizing free radicals produced during the process of metabolism.
11. Immunomodulatory Properties:
Research studies have shown that the consumption of Ashwagandha led to significant modulation of immune system reactivity and prevented myelosuppression in mice induced by immunosuppressive drugs. It was also observed that Ashwagandha increased the red blood cell, white blood cell, and platelets count.
12. Increased Blood Production:
Haematopoiesis is the process of producing new blood. According to research, Ashwagandha possesses hemo-poetic properties. The study showed that red blood cell and white blood cell counts increased significantly in rats which were administered with Ashwagandha. This could mean a positive effect on human red blood cells as well, thereby helping to prevent conditions like anemia.
13. Aphrodisiac Properties:
It has been widely believed for many centuries that Ashwagandha had aphrodisiac properties and people used it as a medication to improve vitality and fertility. A recent scientific study indicated that Ashwagandha plays an important role as an aphrodisiac medicine as well as a way to improve semen quality.
Be the first to review this product